I bet you're getting sick of eating the same meal every day for lunch. But, instead of having to dig through all those keto recipes, why not check out this handy list that has different keto lunch ideas?
Easy and Delicious Keto Lunch Ideas
If you're on the ketogenic diet, lunchtime can be a bit of a challenge. But it doesn't have to be! With these easy and delicious lunch ideas, you can enjoy a delicious and healthy meal without all the fuss.
Salads – Salads are a great option for lunch, and there are endless possibilities when it comes to variety. You can load up on greens and healthy fats, or go for a more traditional salad with chicken or eggs. either way, you'll be getting plenty of nutrients and staying within your carb limit.
Soups – Soups are another great option for a keto lunch. They're filling and satisfying, and there are so many different ways to make them. You can go for a hearty beef or vegetable soup, or keep it light with a fish or chicken soup. Just make sure to choose a broth that's low in carbs.
Leftovers – If you're short on time, leftovers from dinner can make the perfect keto lunch. Just reheat whatever you have on hand, and enjoy! This is an especially good option if you've made something like a low-carb casserole or stew that will still be tasty the next day.
Sandwiches (Yes, Really!) – You can definitely enjoy a sandwich on the keto diet – you just have to be careful about the bread. Look for a low-carb option like sliced cheese or cloud bread, and fill it with your favorite meats, cheeses, and veggies. You can even make a simple PB&J if you're in a pinch.
Meat and Cheese Plates – If you're not in the mood for cooking, a meat and cheese plate is always a good option. Just choose your favorite meats and cheeses, and pair them with some low-carb crackers or celery sticks. Add in some pickles or olives for extra flavor, and you're good to go!
Cauliflower Tabbouleh – This delicious cauliflower tabbouleh makes a great light lunch or side dish. It's packed with fresh herbs and vegetables and has a nice lemony flavor. Serve it on its own or with some grilled chicken or fish.
Egg Muffins – These egg muffins are perfect for grabbing and going. They're packed with protein and healthy fats, and they freeze well too. Just make a batch on the weekend, and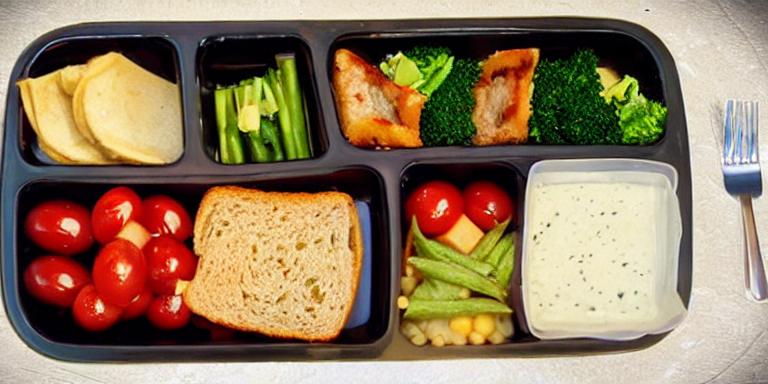 Other Healthy Option For Your Lunch
You're probably looking for a healthy option for your lunch. Fortunately, the ketogenic diet provides plenty of options for delicious and nutritious lunches. Here are some of the best ketogenic lunch ideas to help you stay on track with your diet:
Tuna Salad Wrap: This healthy wrap is perfect for a quick and easy lunch. Simply combine canned tuna, mayonnaise, diced celery, and chopped onions in a wrap then enjoy!
Egg Salad: Another great option for a quick and easy lunch is egg salad. Simply combine hard-boiled eggs, mayonnaise, diced celery, and chopped onions in a bowl then enjoy!
Chicken Salad: A healthier option for chicken salad is to use Greek yogurt in place of mayonnaise. Combine shredded chicken breast, diced celery, chopped onions, and Greek yogurt in a bowl then enjoy!
Cucumber Tomato Salad: This refreshing salad is perfect for a light lunch or side dish. Simply combine diced cucumbers, diced tomatoes, red onion, balsamic vinegar, and olive oil in a bowl then enjoy!
Salmon Avocado Salad: This filling salad is perfect for a hearty lunch or dinner. Simply combine cooked salmon, avocado slices, cherry tomatoes, red onion, lime juice, and sea salt in a bowl then enjoy!
Insanely Tasty Keto Snacks
On keto, you know that snacks can be hard to come by. That's why we've rounded up the tastiest keto snacks that will satisfy your cravings and help you stick to your low-carb diet. From savory to sweet, there's a keto snack for everyone!
Keto Cheese Crackers: These cheese crackers are the perfect savory snack. They're easy to make and only require a few simple ingredients.
Keto Chocolate Chip Cookies: Craving something sweet? These chocolate chip cookies will hit the spot. They're made with almond flour and are totally sugar-free.
Keto Zucchini Chips: These zucchini chips are a great way to get your veggies in while satisfying your crunchy cravings. They're baked, not fried, and are seasoned with Parmesan cheese and garlic powder.
Keto Peanut Butter Cups: These peanut butter cups are a delicious treat that you won't be able to resist. They're made with sugar-free chocolate and natural peanut butter, so they're good for you too!
Keto Coconut Macaroons: These coconut macaroons are the perfect sweet snack. They're gluten-free, dairy-free, and high in healthy fats from the coconut oil and shredded coconut flakes.
Sweet Keto Dessert Recipes
Following a ketogenic diet, or just looking to cut down on your sugar intake, then you'll know how difficult it can be to find desserts that fit your needs. But don't despair – there are plenty of delicious and sweet keto dessert recipes out there!
In this roundup, we've gathered some of the best keto dessert recipes from around the web. From no-bake cheesecake to chocolate chip cookies, there's something for everyone to enjoy. And since all of these recipes are low in carbs and high in healthy fats, they're perfect for those following a ketogenic diet.
So if you're looking for some amazing keto dessert recipes, look no further!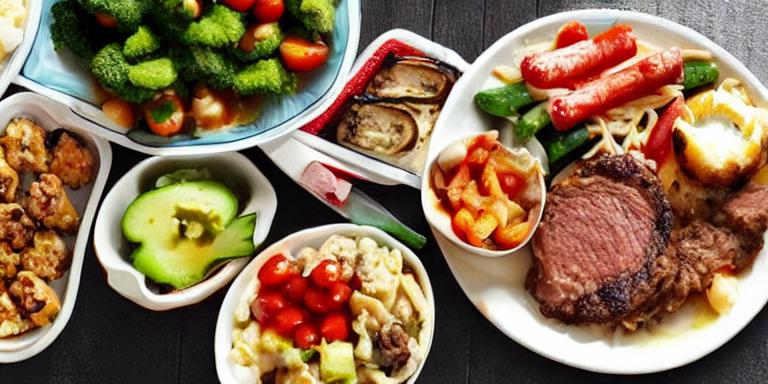 Copycat of Your Favorite Restaurant's Meal
There's nothing quite like a delicious, home-cooked meal from your favorite restaurant. But sometimes, time and budget constraints make it difficult to enjoy these meals as often as you'd like. That's where keto copycat recipes come in!
With a little creativity and some simple ingredient substitutions, you can easily recreate your favorite restaurant meals at home. And the best part is, these keto-friendly versions are just as delicious (if not more!) than the originals.
Here are some of my favorite keto copycat recipes for a delicious and budget-friendly keto lunch:
Keto Chicken Teriyaki Bowls: These bowls are inspired by the popular Japanese dish and are just as flavorful (if not more!) as the original. Plus, they're super easy to make and can be tailored to your personal preferences. Simply substitute rice with cauliflower rice, and chicken breasts with thigh meat, and use a sugar-free teriyaki sauce to keep things keto-friendly.
Keto Cheesesteak Sandwiches: You don't have to give up your beloved cheesesteaks just because you're on a keto diet! These sandwiches are just as tasty as the real thing, but use low-carb bread and thinly sliced roast beef instead of traditional steak sandwiches. Add some sautéed onions and peppers, along with plenty of cheese, for an epic sandwich that'll leave you feeling satisfied without any carb-induced guilt.
Keto Sesame Chicken: Another takeout favorite, this keto version of sesame chicken is crispy, sticky, sweet, and absolutely delicious. It's also much healthier than the restaurant version since it's baked instead of fried and uses a sugar-free sesame sauce. Serve it over cauliflower rice or your favorite low-carb vegetables for a complete meal.
Keto Philly Cheesesteak Sliders: Just because they're mini doesn't mean these sliders are any less tasty than a full-sized sandwich. These little bites are packed with all the flavors of a traditional Philly cheesesteak, but use keto-friendly hamburger buns and thinly sliced roast beef instead of steak. Add plenty of cheese, onions, and peppers for an irresistible slider that'll have you coming back for more.
Keto General Tso's Chicken: We love Chinese food, but it can be pretty carb-heavy. This keto version of General Tso's chicken is just as flavorful as the original but uses cauliflower rice instead of white rice and breaded chicken breasts instead of traditional fried chicken pieces. The result is a delicious, satisfying, and healthy meal that'll leave you feeling full and happy.